Actually, we arrived on Tuesday, but I am just now feeling recovered from the drive. The distance from Queretaro to Merida is 1,510.8 km (apps 938 mi.). It took us three days of driving 6-8 hours each day. We were in a bit of a hurry, so we did not take any extra time to see the sights or make side trips. Nevertheless, it was a beautiful and relatively peaceful drive.
Our biggest concern (and rightly so), was traveling with a car stuffed with "stuff" along with two cats and a mini poodle with travel anxiety issues. Izzy, our mini, has never liked riding in the car. Even short rides from our house in Boise to the nearby foothills for a hike would send her into a pathetic yet ear-shattering whining and howling frenzy.
You may remember the tale of our move to Mexico and her 5 hours of constant whining in the airplane despite the veterinarian-prescribed Xanax we gave her. To this day, people who were in the first class cabin are still talking about that trip! I don't think we could have made it had we flown coach, as the other passengers would have revolted and thrown all of us out an airlock.
It Doesn't Work!!!!!
For this trip, the veterinarian recommended giving her 1/2 tablet of Dramamine.
On day, it became clear that it was not very effective. At least not at the dosage it was prescribed. Add to that the anxiety I felt at starting the journey, and you can already start to feel the pain of that day. Lyn really took it the worst — he is very sensitive to noise in general, so a high-pitched, randomly spaced whining monster did not help.
Originally, our travel itinerary was set to stay overnight in Puebla; however, we had gotten an early start and had plenty of daylight remaining, so we continued to a small town named Orizaba, in the state of Veracruz. This, I may say, was an excellent choice! Not only was the drive into Veracruz spectacular, but the city of Orizaba was lovely and charming as well.
First, spectacular and lush green mountains greet you on as you enter the state of Veracruz. It reminded me of some of the ravines we saw flying over Maui many moons ago. Most impressive was the stupendous snow-capped Pico de Orizaba, a dormant (but not extinct) volcano that is the third highest peak in North America, and the highest volcanic peak. At 18,491 ft, it rises high above the landscape.
We spent that first night in a converted hacienda (Gamma Orizaba Grand Hotel de France). Our room was on the second level, so Izzy had her first experience in an elevator. It wouldn't have been my choice of locations as, in order to get to the room, you had to go up an elevator and wind around a hallway with multiple short flights of steps. This made the bellman's delivery of our bags a lot harder! We were very cautious and brought everything into the room with us, so there were lots of things to carry, including crates, suitcases, backpacks, computer bags, a litterbox, and two cats.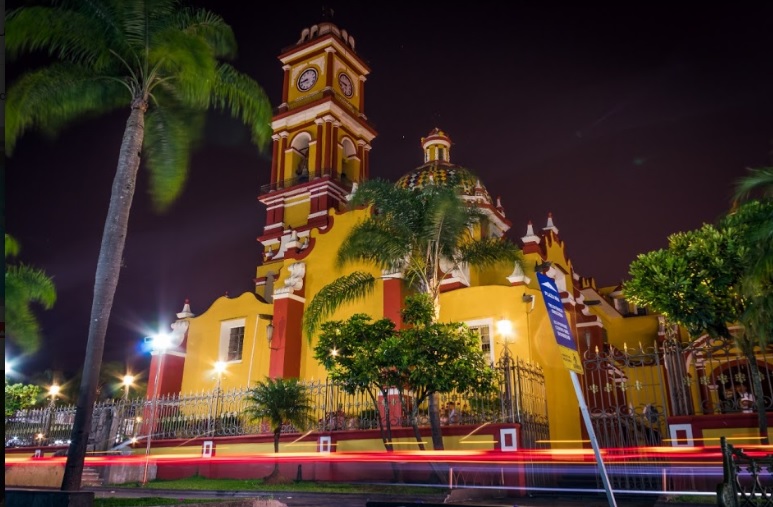 Fortunately, the hotel had a restaurant, which we promptly took advantage of for a quick dinner before turning in for an early bedtime. Lyn was quite exhausted, as he drove the last leg of the trip so I could try to calm the dog, who was unconsolable. There were moments of anguished begging about getting her to shut up, including some threats of tossing her out the window if she didn't stop the screaming.
Can it get any worse?
I knew that I couldn't go through another day like that, so we put our heads together and made a new dosing plan — instead of 1/2 a Dramamine every 4 hours, we would give her an entire Dramamine, repeating when she started to de-rail.
NG (no good). I think the extra dose was just too much for her and made her more psychotic instead of better. Day two, therefore, was worse than day one, especially at the end when I refused to give her any more for fear it would kill her.
Lyn, once again, was completely distraught, times 1000.
If that wasn't bad enough, we drove further than we had planned to a town called Cuidad Carmen — a beach town in the state of Campeche. It was dark by the time we got close to the city (something we had tried to avoid), and, despite Google Maps, we were unable to find our Holiday Inn Express hotel where it was supposed to be. Late. Hungry. Tired. Rattled. Stressed…. It was all a bit much. We stopped at three different hotels before we finally arrived at ours.
To make matters worse, the hotel didn't have a restaurant or bar on site. The good news was that the sister hotel — the Holiday Inn where we first stopped — delivered from their kitchen. So, rather than enjoy a meal in a quiet restaurant sans animals, we ended up with hamburgers a la room service. No wine (boo hoo), but I did get a beer (did I ever mention I don't really like beer?). I really needed a drink.
On the up-side, the staff at the hotel were wonderful. The doorman loved watching little Izzy chase her tennis ball in the parking lot and even took pictures of her. She once again had to take an elevator up and down to our room, only this time it was more complicated as the doors opened on BOTH sides of the elevator. Geez Louise. We almost lost her at one point.
The king-sized bed provided a welcome respite from the day. We were glad the the following day would be the last.
Are we there yet?
Nevertheless, I knew that, once again, without doing something different, the trip would end in Izzy's funeral and our divorce. Neither of those were acceptable alternatives, so I tried with all of my power to make the final day of our journey not miserable. This included:
Getting up earlier than Lyn. Check.
Packing EVERYTHING and loading it into the car while Lyn enjoyed a peaceful complementary breakfast. Check.
Driving the entire five remaining hours to Merida. Check.
Since the larger amount of Dramamine the day before didn't work as we had hoped, we tried something a bit different (again) — we gave her one Dramamine in the morning and then 1/2 a Dramamine every 3-4 hours when she started getting wound up. We also stopped for walk breaks more often, which helped all of us.
PERFECT!
At this point, the rest of the trip was along the coast with beautiful views of the blue-green Gulf waters. The roads were in good shape and virtually empty, so we made excellent time and arrived at our Airbnb in Merida around 3:30 p.m.
What about the cats?
Funny you should ask.
They were so good we were able to let them loose in the car. They never tried to run off or do anything stupid. In fact, Jack found a comfy hiding spot under the passenger seat, and Mocha mostly lounged in the litterbox. (Why do they do that?) I would take them anywhere! Izzy? Not so much.